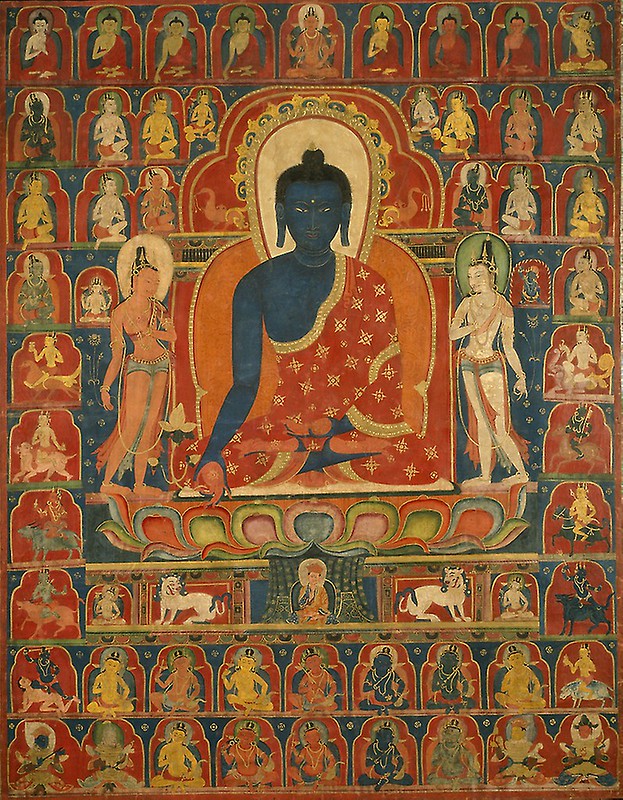 How do you spend a rainy Sunday?
You mean you don't spend the day watching a bunch of people talking about death and dying and meditating on it? Because that's how I spent a Sunday recently—which was part of a five-day Buddhist conference on love and resilience offered by Lion's Roar in conjunction with the New York Zen Center for Contemplative Care.
I've said it before, but I'm bringing it up again because I think it's really important—the concept of impermanence, which can also be thought of as, yep, that cheery topic *cue sarcasm* death. It brings us back to the here and now. It snaps us into the present. It allows us to fully be present and not just sleepwalk through our lives as probably all of us do most of the time.
Death really helps us understand our why, our purpose in life and brings meaning to it. It makes crystal clear what is most important to you, what really matters.
Contemplating death (as well as going through it, which, really we all are, if you stop and think about it)—which is the purpose of this piece—to make you stop and think about something that most of us don't, and don't want to. Because for most of us (me included) death is scary. It's sad. It's upsetting. It's morbid. But what I've come to realize in the past five years, since losing my mom (and my grandma, my aunt, and my dog), is that it is something that shouldn't be. (Well, except the sad/upset part, I think. With death and the passing of loved ones, you are allowed to be sad/upset and grieve that change.)
But it shouldn't be scary or morbid. It shouldn't be avoided. It's something that we should befriend.
That thinking about death, or our impermanence, and the ethereal nature of everything on a regular basis, helps us to become more comfortable with it. Less afraid. Again, that's not to say you won't be sad when you lose a loved one. That you shouldn't grieve. Being sad and grieving due to loss is natural and an important part of the healing process.
Grief is love with no place to go, as they say. I still get sad and cry when I think of my mom, or dog, or grandparents, or my most recent loss of my aunt, among others. I haven't become some stoic, unfeeling person around and about death. But thinking about it regularly allows us to remember that death is as natural a part of living as life itself. That it is something we walk alongside every step of our life journey.
There's a quote by Confucius that says: We all have two lives, the second one starts when you realize you only have one.
Realizing that, that's when we wake up. Death makes us realize sh*t. I can go at any time, just like (insert people or animals or things you have lost). And it also allows us to recognize that at some point we need to let go. Let go of those people, animals, or things, as Mary Oliver's poem "In Blackwater Woods" reminds us: To live in this world, you must be able to do three things: to love what is mortal; to hold it against your bones knowing your own life depends on it; and, when the time comes to let it go, to let it go.
There's a Buddhist practice called The Five Remembrances, and it's a contemplation practice that we're told we should do every day. It reminds us that we'll die and so will everything we hold dear. I have an app that helps remind me, called WeCroak, that sends quotes up to five times a day to remind us of our mortality. It pops up with a notification that says "don't forget, you're going to die"—well, I can't now, can I?—with that message coming up randomly five times throughout my day!
There's a quote from Ursula K. Le Guin that came up on the app recently that I saved and will share here: And day to day, life is a hard job, you get tired, you lose the pattern. You need distance, interval. The way to see how beautiful the earth is, is to see it from the moon. The way to see how beautiful life is, is from the vantage point of death.
The practice of The Five Remembrances I'm going to give here is a version from Vietnamese Buddhist monk Thich Nhat Hanh's "Plum Village Chanting" book (there are other slightly different versions out there). They are called "Remembrances" because they help us remember the truth of who we are, our true nature. Chiefly, that we are of the nature to die. They are the Buddha's teachings on aging, health, death, change, and the consequences of our actions—things we all go through but rarely think about.
During the above-mentioned conference on love and resilience, one of the presenters, Pamela Ayo Yetunde, a chaplain and pastoral counselor, led a guided meditation practice repeating the Five Remembrances, and then asking us after each one to inhale and focus on the core truth of it, and exhale say to ourselves "no escape."
I've put below each phrase for the inhale and exhale so you can do that as you read and repeat the phrases to yourself.
I invite you to take a comfortable seat as you read these and repeat them to yourself a couple of times.
I am of the nature to grow old. There is no way to escape growing old.
Inhale: grow old. Exhale: no escape.
I am of the nature to have ill health. There is no way to escape ill health.
Inhale: ill health. Exhale: no escape.
I am of the nature to die. There is no way to escape death.
Inhale: to die. Exhale: no escape.
All that is dear to me and everyone I love are of the nature to change. There is no way to escape being separated from them.
Inhale: nature to change. Exhale: no escape from separation.
My actions are my only true belongings. I cannot escape the consequences of my actions. My actions are the ground upon which I stand.
Inhale: my actions. Exhale: no escape from the consequences of my actions.
Are you willing to face this part of life, with me, that most of us tend to run away from? Let's be brave together and face death within our lives so that we can live fully and freely.
If I take death into my life, acknowledge it, and face it squarely, I will free myself from the anxiety of death and the pettiness of life—and only then will I be free to become myself. ~ Martin Heidegger
~